Home / Treatment /AORTIC ANEURYSM
It is a condition in which the aorta is dilated 1.5 times more than the normal size like a balloon and keeps expanding with time. It is common with the progressing age and seen in elderly individuals the most. They cause enormous cardiovascular morbidity and mortality worldwide.
There are three major types of AA – 
Abdominal  Aortic Aneurysm (AAA) – Affecting the part of the aorta in the abdominal cavity. 

Thoracic  Aortic Aneurysm (TAA) –  Affecting the part of the aorta in the chest. 

Thoracic- Abdominal  Aortic Aneurysm (TAAA) – Affecting the part of the aorta in the abdominal cavity as well as the chest. 
It might affect individuals more with the following criteria –
Age above 60 years

Tobacco consumption via smoking or chewing 

Diabetes mellitus

High blood pressure

High blood cholesterol levels

Obesity
Symptoms might include – 
Sudden/Severe abdominal pain

Severe back pain

 The feeling of swelling/heaviness in the stomach

Decreased hunger sensation/appetite
The diagnosis may be confused with renal stone gastritis. hernia or lumbar spine disease. However, Consulting a qualified vascular-endovascular surgeon with abdominal ultrasonography/CT scan would be recommended.
Available treatments options include  – 
Endovascular Aortic Repair (EVAR/TEVARI) –  
EVAR/TEVAR is a low complication and death risk treatment with a short-term treatment with 3-4 days of hospitalization.Endovascular aortic repair is an emerging standard of care for both simple and complex aneurysms, performed at a vascular cath lab involving endovascular stent-graft using small incisions at the top of the leg into the aorta. The graft covers the aorta's abnormal portion, preventing blood flow into the aneurysm leading to the aneurysm getting closed and shrinking over time.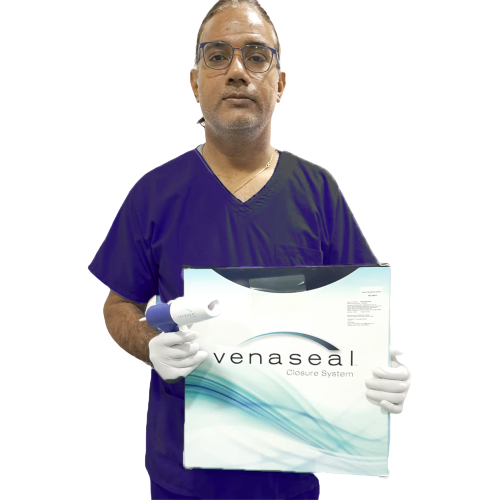 Open surgical repair-

   

It is performed when an endovascular repair is not suitable. Open surgery starts the aorta's dilated portion exposure through an abdomen or abdomen and chest incision. Then to replace the diseased aorta a synthetic graft (tube) is inserted which is hand sewn to the non-diseased aorta portions. Recent advancement with minimally invasive surgery and robotic surgery is also available at some centers.

Hybrid approach –

It is an open surgery with endovascular repair combined treatment, used to treat complex aortic aneurysms.